Tadpoles
Huge groups of tadpoles concentrate along a shoreline, making the shoreline appear to be a moving black cloud.  You can observe this during the day on shallow edges where the sun warms the water.  "It's as if these tadpoles are solar powered," says Lauren Livo, a Colorado herpetologist.  At night tadpoles disperse into deeper water.
Predators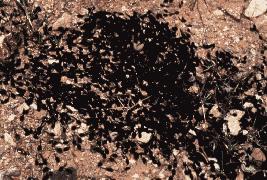 There are three main predators of boreal toad tadpoles: the western terrestrial garter snake, tiger salamander larvae, and diving beetle larvae. All three eat boreal toad tadpoles. (Coming soon, video clips of diving beetle larvae devouring tadpoles!)
Field Notes from Lauren Livo
Time: 5PM, August 20
Location: Donut Pond, Clear Creek County, west of Idaho Springs, near Berthoud Pass, Colorado.
About 100 tadpoles swim in little clusters in the shallow water by the shoreline, but many of the tadpoles have already transformed into tiny toadlets. One large aggregation a few inches from the water consists of about 200 toadlets in a pile the size of a small plate. Suddenly, lightning dominates the landscape, and the toadlets and I get wet from a sudden rain and flurry of pea-sized hail.
The toadlets in an aggregation look nearly motionless when I watch them for just a minute or two. I place a small aga
r block into an aggregation. The slow-motion churning of the toadlets gradually moves the agar block to the edge of the pile.
The toadlets probably join these aggregations for warmth and to protect against water loss.They form these shortly after crawling onto the land. Within a few days most of the toadlets leave the aggregations and hop away to find good places to find food and to spend the winter.
Note: All tadpole/toadlet photographs were taken by Lauren Livo.