Church of the Holy Spirit at Žehra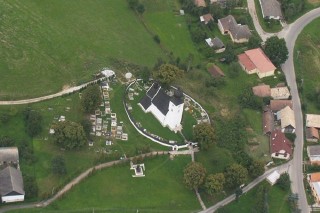 Name:
Farský kostol Svätého Ducha, Žehra
Contact: Dr Mária Novotná (f) Administrator
Address:
053 04 Spišské Podhradie, Slovakia
Mailing address:
Spišské múzeum, Námestie Majstra Pavla 40, 054 01 Levoča, Slovakia
Hours:
10am-5pm daily except during church services

Located three kilometres from Spiš Castle, the Church of the Holy Spirit at Žehra belongs to the group of two-nave churches which are unique to the Spiš region.
Authorisation to build the church was granted to Count Ján from Žehra in 1245. It was originally built with a square presbytery and external tower, but was later reconstructed with a vault and central pillar. The outer austere expression of the architecture, built in the transitional Late Romanesque-Gothic style, is decorated only with a peculiar shingle bulb roof of the tower. The fresco paintings of the church interior were made in five successive stages, between the 13th and 15th centuries. The 'Tree of Life' fresco, dating from the mid-14th century, attracts the greatest attention, having served with its symbolism as the bible of the poor.