Portsmouth

People coming to Portsmouth for the first time are often totally amazed at the wealth of history there is to be explored in our city, which originally really began life as a small town, way back in 1180, when a wealthy Norman merchant adventurer and soldier used a part of his not inconsiderable personal fortune to buy an area of land that we nowadays know as Old Portsmouth.
This fellow's name was Jean de Gisors, one of William the Conqueror's knights, who realised, as the Roamns had done hundreds of years earlier, that the natural harbour formed by Portsea Island and the Gosport peninsula offered unique opportunities, both for merchant ships and for military vessels.
Whereas the Romans had built the original outer screen wall of Portchester Castle, and hadn't been too interested in what was happening on Portsea Island itself, Jean de Gisors had different plans and he had picked his ground well.
At that time, there were just a few tiny Saxon farmstead settlements on the island, much of which was not only prone to flooding, but prone to flooding by sea water, so that the few areas that remained dry enough to farm and build houses on were scattered among some very muddy bogs and very wet salt marshes.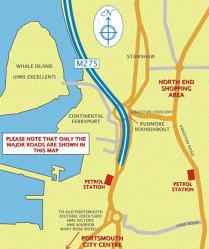 You can find out a lot more about the history of Portsmouth down the ages by visiting the Portsmouth Now And Then website, which you can do by clicking on the "Portsmouth History" link, just to the left here. Not only is it pretty comprehensive in itself, it also contains links to other sites with close connections to the history of Portsmouth.
There are also links to all the official "tourist" attraction websites, and those are repeated here, at the top of the page. If you're contemplating a visit to Portsmouth that is more than just a "passing through" on the way to Europe, you could do a lot worse than try a few of those links, which tell you everything about the places you will really want to visit.
However, if you just want the "potted" guide version, we've put together a brief summary description of all the relevant bits, for which you just need to keep reading your way down this page ...
Portsmouth has become known as the home of the Royal Navy down the ages, although there are one or two other towns and cities would like to think otherwise, but it wasn't always so.
Although various monarchs had earlier seen the advantages of Portsmouth as a mustering and embakation point for armies going across the Channel to do battle - mostly in France - it wasn't until the reign of Henry VIII that England had its first formal and permanent navy.
It was Henry who built Southsea Castle and commissioned architects and engineers to upgrade the old town's defences, which until then had been less than satisfactory, with French raiders running amok and burning most of the buildings to the ground on several occasions.
At last, though, the town and dockyard had defences that its prominence and situation had merited for a long time.
But Portsmouth was also the scene of one of Henry's saddest moments, when, from the ramparts of the castle, he witnessed the tragic sinking of his pride-and-joy flagship, the Mary Rose.
To this day, the experts can't be quite sure how and why she sunk - the most popular theory has long been that as she heeled over to make a turn, water flooded her lower gun ports, but some French historians reckon there is documentary evidence to suggest her loss was caused by French gunfire - we'll probably never know ....
Whatever the truth, her remains lay in the silt and mud beneath the Solent for almost 450 years, before they were finally brought to the surface in 1982, to be preserved and become the centre-piece for what is now set to become one of the most magnificent museums in the country.
The new, much-enlarged museum is scheduled to open in 2012, thanks to local fund-raising efforts and a huge lottery grant.
Curiously, from midway through the reign of Elizabeth I, despite the fact that the Virgin Queen's government launched the world's first national lottery in order to finance further improvements in the town's defences, Portsmouth found itself relegated to the status of a repair and revictualling facility.
For a hundred years, not a single new warship was built in the dockyard, and although repair and refitting work was not exacyl in short supply, the local economy did suffer for this.
Eventually, in 1650, the year after the execution of Charles I, a new warship was commissioned to be built here and the aptly-named HMS Portsmouth slid into the waters, to begin a new era in the town.
With a now increasing population, all needing somewhere to live, houses started to be built outside the fortified town walls of what we now call Old Portsmouth, and thus the area known as Portsea was born.
Things were now really on the move and eventually the town walls would be extended to include this parish within the town, but by that time there were urban developments springing up all over Portsea Island, where previously there had been only farmsteads and tiny hamlets..
Southsea was one of the most prominent developments, but builders and entrepreneurs were also slowly extending their reach into the former villages of Milton, Copnor and Fratton, moving eastward and northwards until there was very little unoccupied land left.
The industrial revolution brought dramatic changes to Portsmouth, as it did to the rest of Britain, Europe and North America in particular, with the world's first mass-production line, making pulley blocks for the navy, opened in Portsmouth dockyard at the beginning of the nineteenth century.
This was designed by emigre French engineer, Marc Brunel, whose even more famous son, Isambard Kingdom Brunel, was born in Portsea, in 1806. He would begin by working alongside his father, but eventually branched out on his own, responsible for some of the greatest projects and engineering achievements of his day - probably the greatest engineer of all time.
Portsmouth was also at the forefront of important educational change - a local disabled cobbler, John Pounds, started using his Portsea workshop to offer basic lessons to the children of the poor in the area, and his "classes" quickly became very popular.
News of this spread wider afield, and various philanthropists and educationalists began looking at ways of introducing what became known as "Ragged Schools" in their own regions.
Developments in ship design and construction were bringing major changes to the way in which the dockyard worked - HMS Warrior wasn actually built on the Thames estuary, but her arrival on the scene meant that wooden hulled craft quickly became a thing of the past.
This triggered off a frenzy of naval shipbuilding around the world, which meant dockyards everywhere were working around the clock again.
Some sources suggest that the French warship, La Gloire, launched a year before Warrior was actually the world's first iron-hulled warship, but she still had a lot of timber framework inside her outer shell, so it's a moot point.
In any case, Britain's Queen of the Waves was bigger, faster, had a longer range and completely outgunned the French ship and, so great was her hitting power that for the few years before she in turn became obsolete, she never fired a shot in anger.
Throughout the whole Victorian era, Portsmouth continued to grow, eventually spreading north of Ports Creek, to include what is now Cosham, Wymering, Paulsgrove and the southern slopes of Portsdown Hill, which provided sites for houses with great views out across the city, by early in the twentieth century.
The spread of the railway system, the coming of the infernal combustion engine and electric powered trams (eventually trolley buses and then petrol and diesel buses) all served to help "shrink" the world, including that around Portsmouth.
The Royal Marines also came to Portsmouth - their museum, on the seafront, heading towards the Eastney end of the esplanade, is a great tribute to the long and close association between this city and the "bootnecks", including the world famous Band of the Royal Marines.
For obvious reasons, a lot of Portsmouth's history is associated with the military, although Charles Dickens was born here and Sir Arthur Conan Doyle practised medicine in Southsea, as well as playing football and cricket for Portsmouth - althjough not the professional Portsmouth Football Club that was eventually founded in 1898, long after he had moved on.
The Beam Engine House in Eastney, however, is more to do with muck than bullets ..
Here you can see two perfectly preserved, very imposing, Victorian steam-powered beam engines, which were used to pump sewage out to sea for many years.
Anyone with a love of engines, or anything else vaguely mechanical will love this - the Victorians could make art of engineering like no one before, or since.
And on the subject of Victorians, in the 1860s they made and used a lot of bricks locally, in the construction of the Palmerston Forts - a defensive perimeter that ran along Portsdown Hill, around to Gosport and even out into the Solent.
These were intended as defence against future French invasion, even though Britain was at peace with the French at the time - although there was a lot of unrest throughout most of Europe, nonetheless, so it may be unfair to say that our ancestors got thigs totally wrong in this matter.
The forts soon became known as "Palmerston's Follies", though, as it was soon claimed that their guns were inadequate as sea defence, and mostly pointing the wrong way if they were intended to act as a defensive barrier to the landward side.
Nowadays, they have mostly been adapted for different purposes, including a children's recreation facility, a museum for the Royal Armouries and research quarters for the navy.
All those tens of millions of bricks were made in the area, by specially commissioned new brick works, and the project, which went on for many years, especially when further modifications were ordered, did wonder for the local jobs situation.
Take a look at the Palmerston Forts web site - it's a real eye-opener!
And finally, for the moment, at least, we shouldn't forget Charles Dickens, although people often forget the links that Portsmouth has with other great writers, including Conan Doyle and Neville Shute.
Dickens birth place is in Old Commercial Road - my doctor had his surgery next door, many, many years ago now - and there are links here to the Dickens Fellowship web site, as well as more information in the pages of the Portsmouth Now And Then web site.
Hopefully, these pages have given you a little bit of an insight into, and whet your appetitie for the history of our city - it actually became a city in 1926, by the way.
Do try to find the time to visit a few of our special places, and I hope you have a great time if you do! And thanks for stopping by here, too ...