Okinawa's potent habu sake packs healthy punch, poisonous snake
By David Allen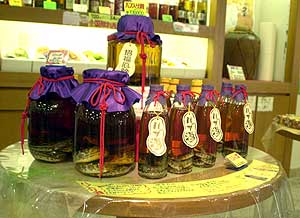 The more expensive bottles of awamori liquor include a well-preserved habu snake coiled inside.
Freaked out by the worm floating in that bottle of mescal tequila?
Then you're probably too squeamish for the snake coiled up in a bottle of Okinawa awamori.
And that's a shame, for there's nothing better for what ails you than a shot of habu sake, says Hideo Iguchi, factory manager of Nanto World, one of the major suppliers of the alcohol on Okinawa.
Especially this year — the Chinese Year of the Snake.
"Habu sake is a liquor that comes to Okinawa from China, where the snake is known for its medicinal properties," Iguchi, 55, said during an interview in his office in southern Okinawa. "Historically, the Okinawan people believed it gave them strong stamina."
He smiles and flexes a bicep.
"Did you know that the habu snake can survive for 450 days on water alone?" he asks. "Habu sake is said to be good for back problems and arthritis. It is said to take the poisons out of the body."
Iguchi, however, is quick to deny habu sake is Okinawa's Viagra.
Habus soak in a high-alcohol mix of awamori, Okinawa's rice liquor.
The recipe for habu sake is believed to have come from China centuries ago when present-day Okinawa was known as the independent Ryukyu Kingdom.
Iguchi's recipe mixes 13 herbs and spices with a rice liquor that Okinawa's poisonous habu snakes have been soaked in. Some of the herbs, such as ginseng, turmeric, hibiscus and fennel, have been used in Chinese herbal remedies for centuries.
The habu snake's body has 19 amino acids said to be beneficial to humans. Its poison dissolves in alcohol and poses no risk, Iguchi says.
The name "habu sake" is actually a misnomer. It isn't sake at all; it's awamori, a stronger liquor created through a distilling process of rice.
Awamori is a clear liquor that has been aged. The longer the aging, the smoother the taste and the more potent the alcohol content. Habu sake, because of the herbs and honey that some producers add, is a yellowish color.
And, of course, the more expensive bottles come with the snake inside.
"We use about 5,000 habus a year to make habu sake," Iguchi says. The distillery is part of Nanto World's Gyokusendo Kingdom Village, one of Okinawa's busiest tourist spots.
"We started to keep habus at the facility about 15 years ago, as a tourist attraction," says Iguchi, who formerly was Gyokusendo's habu keeper. "Then we decided to produce habu sake to sell to the tourists."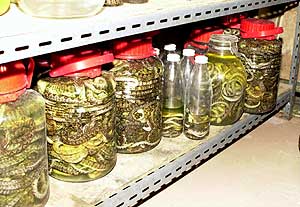 Nanto World's habu snake distilling process includes two soaking baths over a period of more than two months.
Iguchi designed the distilling process and facility from scratch. His most difficult task was eliminating habu sake's awful smell. The stench is bad enough in some local brands to make your head turn before you can manage that first sip.
Which is too bad, because habu sake goes down a lot smoother than some of the more potent plain brands of awamori.
"It's a strong smell, and it had to go," Iguchi says. "But how? All of the distilleries I visited bought dead snakes — they were afraid to handle them because they are very poisonous. They then just washed the snakes and soaked them in awamori.
"In my research I found that the smell was caused by the blood and some internal glands left inside the snake. One day while walking through a fish market in downtown Naha I saw someone preparing an eel. What they do is put the eel on ice until it is half-asleep, and then bleed it. You see, the heart needs to be pumping in order to properly remove the blood."
Iguchi uses the same process to bleed and gut the habus, sew them back up and prepare them for an ethanol bath.
"When they wake up they are still alive, yet inside they are empty," Iguchi said. "They will still try to attack."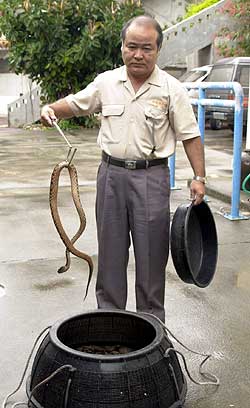 Nanto World of Okinawa uses live habus, like this one Hideo Iguchi pulls from a plastic basket, for its potent mixture of awamori, herbs and snakes.
That's the pose he seeks — coiled, mouths open and fangs bared — when they are placed inside bottles of ethanol. The bath is 95 percent alcohol.
They are left to soak for a month and then transferred to a 59 percent alcohol mix for 40 days. After that, they are placed in a 35 percent awamori and mix of herbs grown on Okinawa.
"The final mix gives us the medicinal effects of the herbs and the habu," Iguchi says. "But the exact nature of the blend is a company secret."
Hanging behind Iguchi is a picture of him in his younger years, smiling and standing on a stool. Above his head, he holds a snake's head. The tail nearly touches the ground; it is easy to see the habu is well over 6 feet long.
Iguchi still likes to handle the snakes. Outside his office, he carries a large plastic basket from the room where the snakes are chilled and bottled into an alley. He opens the lid and uses a hook to pull out a writhing snake and grabs it just under the powerful jaws.
"Most Okinawans are afraid of them," he says. "That is too bad; I find them fascinating."
Nanto World's habu sake is available in varying strengths, from 12 to 35 percent alcohol. It also comes in "sweet" and "dry" mixes; the more herbs, the drier the taste.
Some people mix the drink with water, ice and a bit of lemon. Iguchi recommends two or three straight shots of habu sake a day.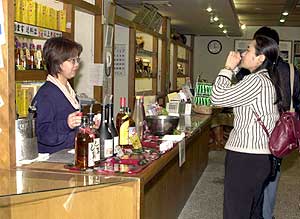 A Nanto World customer tries a shot of Okinawa's famous habu snake.
The most expensive blends also come with habu snakes inside. The store's most expensive bottle contains 7,500 ml (225 ounces) of habu sake and a snake almost 6 feet long. It costs 130,000 yen ($1,092).
A 24-ounce bottle with a younger sibling snake costs 10,000 yen (about $84).
Many shops on Okinawa, including base liquor stores, carry different brands of habu sake. Bottles of habu sake with a fat snake coiled inside are popular gifts for Americans stationed on Okinawa.
Of course, the more squeamish customers can buy habu sake sans snake.
"Some people don't like habus, so they prefer to buy it without the snake staring back at them," Iguchi says.
People also buy plain bottles to refill their snake-filled containers.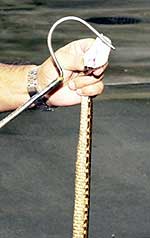 The habu snake allegedly contains 19 amino acids beneficial to humans.
Iguchi cautions that the snakes should never be exposed to the air to prevent them from rotting.
While showing off his wares and treating a visitor to a drink of habu sake from a ceramic cup, Iguchi again talks about the drink's restorative powers.
"We get letters from all over Japan from tourists who bought our habu sake," he says proudly. "One elderly woman wrote that she was incontinent and had insomnia. After drinking habu sake she said she could sleep through the night.
"Of course, we cannot advertise the medicinal benefits," he says with a wink and a smile.
"But, it is good for what ails you."
Related: Poisonous snakes of Okinawa