Okinawa Fishes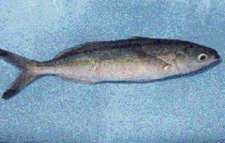 English: Banana Fish.
Japanese: Takasago also locally known in Hogan as Gurukun.
Geek Speak: Caesio diagramma.
Quick tip: Banana Fish (Takasago or Gurukun)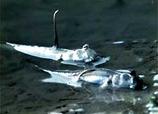 Gobies of Nakagusuku Bay
The mud beaches of Nakagusuku Bay provide a home for a species of fish that may soon become extinct in Japan. During low tide, the goby, a small, spiny-finned fish, can be found along the shores. Although gobies inhabit the coastal areas of tropical East Asia, Nakagusuku Bay is their only habitat in Japan. Gobies, which reach about ten centimeters in length, lay their eggs from April to May. After hatching they go out to sea, returning to low tidal areas when they are about five centimeters long.
The Okinawa Prefectural Government is now reclaiming land in Nakagusuku Bay to build a port facility, and the living area of the goby is becoming threatened. Mr. Tetsuo Yoshino, an instructor at the University of the Ryukyus, has warned that the number of gobies is decreasing yearly. He conducted a field study in September 1993, and found only 1,500 gobies in ten specific sites. Environmentalists have also campaigned to protect these fish. The Environmental Agency of the Japanese Central Government has advised that the reclamation project should proceed while still protecting the goby, and the Okinawa Prefectural Government has organized a committee of experts to consider a solution that would not hinder development but also save the goby.