Elecampane
History and Traditions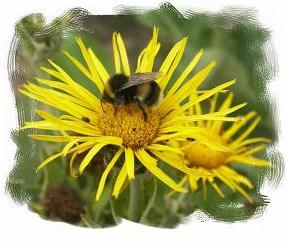 It is said to be named after Helen of Troy, who was gathering this herb when abducted by Paris, or, according to another version, it grew from her tears on the same occasion. In any case, it is an ancient herb, well known to the Greeks and Romans, who ate it as a bitter vegetable and digestive after a heavy meal. It appears frequently in Anglo-Saxon medical texts and in the writings of the Welsh physicians of Myddfai of the 13th century. It remained popular in folk medicine as a cough and asthma remedy over the centuries and was grown in cottage gardens.
Description
A hardy perennial, with tall, erect, soft hairy stems, to 2m (6ft) in height. It has ovate, pointed leaves, toothed at the edges, and terminal yellow flower heads shaped like shaggy daisies, in late summer. It is found on damp soils, near ruins, in woodland, and field edges. It may be propagated by division of roots in spring or autumn, or by seed, which may be slow to germinate. Grow in rich moist soil in a sunny position.
Medical uses
Andrew Chevalier (Herb Society Council Member) gives its uses for
Chest infections 
Chronic chest complaints
Digestive problems
Infection
Cosmetic uses
Thanks to multiple beneficial actions on the skin, Elecampane (Inula Helenium) extract is used in cosmetic and skincare formulations. It soothes irritated skin, smoothes surfaces, and evens the tone.
Key constituents
Inulin (up to 40%).  Inulin was first isolated from elecampane in 1804 and took its name from the herb. It has mucilaginous qualities that help soothe the bronchial linings.
Volatile oil.  Physiotherapists rely on essential oil to achieve antimicrobial effects within the body. In particular, the excretion of essential oils via the urine, or in this case via the lungs it might be expected to exert at least mild antimicrobial activity at these sites. The oil from elecampane root, along with angelica root and clove, have been found in tests to be the most effective in their relaxing effect on tracheal smooth muscle.  Elecampane root preparations along with those of clove, thyme, and lemon balm have also been found to be the most effective in inhibiting the phasic contractions of the ileal muscle.