Calendula
By Debs Cook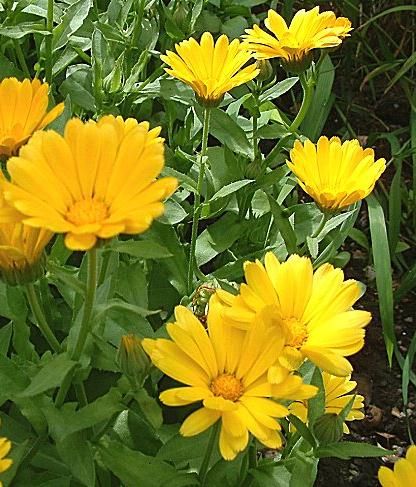 Finally spring is here and, as the sun warms the soil, the keen herb gardener is busy sowing seeds, tending beds and weeding, and I'm no exception to that rule.  The weather here is warming up nicely, and it is time to put the plans I made over the winter into action.  Since last month, I've been sowing seeds and working on ideas for new things to grow as well as amassing new plants ready to plant out in the garden just as soon as we've seen the back of the frosts.
Unfortunately the cold weather hasn't disappeared yet.  For some, there are still frosts about and even snow.  Evidently, this March was the coldest on record since 1942.  No wonder the herbs are late showing this year!
My solution to the cold is to add another dose of warming sunshine to the Herb of the Month and take a look at the bright, sunny Calendula.  Known to many as the Pot Marigold, these splashes of sunshine should be a feature in everybody's garden, and not just because they are so pretty.
History
Valued by the Romans for its medicinal and culinary properties, calendula was also prized by the Egyptians for its properties of rejuvenation and healing.  The Greeks revered its culinary aspects and in the medieval period it was thought to cure just about everything.
Calendula has been a popular garden flower since the time of Shakespeare, the flowers were used to colour and flavour cakes, soups, stews and pot based meals, which, it is said, is how calendula got the name Pot Marigold!
Folklore
Calendula's flowers were said to be in bloom between the hours of 9am and 3pm. This same observation was made in Shakespeare's A Winter's Tale;
"Hot lavender, mints, savoury, marjoram;
The marigold, that goes to bed wi' the sun
And with him rises weeping: these are flowers."
One can just imagine a medieval housewife looking out into her garden and deciding it was time to begin making supper because the marigolds had all gone to bed.
As well as the name Pot Marigold, calendula has a variety of folk names; these include Husbandman's Dial, Marybud, Merrybud, Marygold and Summer's Bride.  Garlands of marigolds are said to stop evil from entering the home, if hung over the entrance to the doorway.  Scattered under the pillow they make your dreams come true.  In Wales, the locals say that if the marigold hasn't flowered by 7, then a thunder storm will be on its way that day.  Old wives believed that the marigold could strip a witch of her will, something that was also considered true of St John's Wort!
Description
Despite being commonly called Pot Marigold, Calendula isn't a marigold at all; it is actually a member of the aster family (Asteraceae) which includes the daisy, sunflower, echinacea and dandelion amongst its brothers and sisters. It should not to be confused with French and African marigolds, which although members of the aster family, are actually members of the genus tagetes and not calendula.
These bright coloured hardy annuals are a familiar sight in herb gardens across Europe, and are grown as a cottage garden plant for the flowers alone by many.  Native to Mexico, Central America and the Mediterranean, the flowers grow to a height of 50 - 60cm between spring and autumn, and come in a variety of colours including orange, yellow, pink and sometimes apricot, including double flowered and bi-colour varieties.
Growing
If you want to share the joys of herb gardening with your children, look no further than the humble calendula. The seed is easy for little fingers to handle; they germinate easily, and the reward is pretty, bright coloured, child friendly flowers.
The seeds may be sown directly in beds, borders, flower boxes or pots throughout Spring and Summer.  The plants prefer a rich, light soil and a sunny position.  Water well during dry weather, and dead head regularly, if you don't want calendula to pop up all over the garden, as they can freely self seed if allowed to.
General Use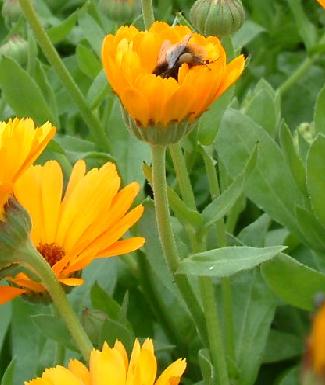 Calendula is grown as an attractive cut flower in the vegetable garden to help with insect control.  I suspect that they do this by way of being fly magnets, because mine always seem to end up covered in blackfly or whitefly!
As well as the insect nasties, calendulas also help bring the beneficial insects into the garden to help with your pest control and pollination.  The dried flower heads can be used in pot-pourri and the flowers, both fresh and dried, have a multitude of cosmetic uses, for example an infusion of the petals can be used as a rinse to lighten hair.
Medicinal Use
Calendula has anti-bacterial, anti-fungal and antiseptic properties and is excellent for treating the skin and encouraging it to heal.  It contains an essential oil in the flower heads and leaves that has an antibiotic effect.  Calendula contains large amounts of flavonoids which help give it superb anti-inflammatory properties and the plant's oils are remarkably soothing.  Calendula heals all kinds of wounds; an infusion of calendula can be used as a wash for eyes to help treat conjunctivitis.
The tincture applied neat to cold sores encourages them to heal.  Calendula tincture is also claimed to cure warts.  Calendula cream is good for helping to treat acne and nappy rash.  An infusion is good for the digestion and helps to ease colitis.  Matthew Robinson, in his 19th Century book 'The New Family Herbal,' says of the marigold, "A plaister made with the dry flowers in powder, lard, turpentine and rosin1 applied to the breast strengthens and succours the heart in fevers."
Culinary Use
Today, calendula is used more for medicinal than culinary purposes.  However, they were once used to colour and flavour possets, a type of milky drink, which in some areas has evolved into a very high calorie dessert.  They were also a popular addition to drinks, where it was said they helped to comfort the heart and spirits.
My Nanna used to make marigold custard with the fresh flowers.  Alas, not only do I not have her recipe, I doubt I would be able to do it justice to it because the only custard I make is the kind with lumps in!  Nevertheless, the memory of eating her marigold custard on poached pears still brings a smile to my face.
Calendula petals have been used to colour cheese and butter, the Romans used the petals as a substitute for saffron and it can still be used that way today, marigold flowers being cheaper and more readily available than saffron.  The fresh flowers and young leaves can be used in salads but the older leaves are very bitter.  The flowers, both fresh and dried make an excellent tea to help soothe women's monthly troubles.
1. Rosin (Colophonia resina) is commonly called colophony or pine resin today.