Three Castles, Two Lords and A Ryukyuan Opera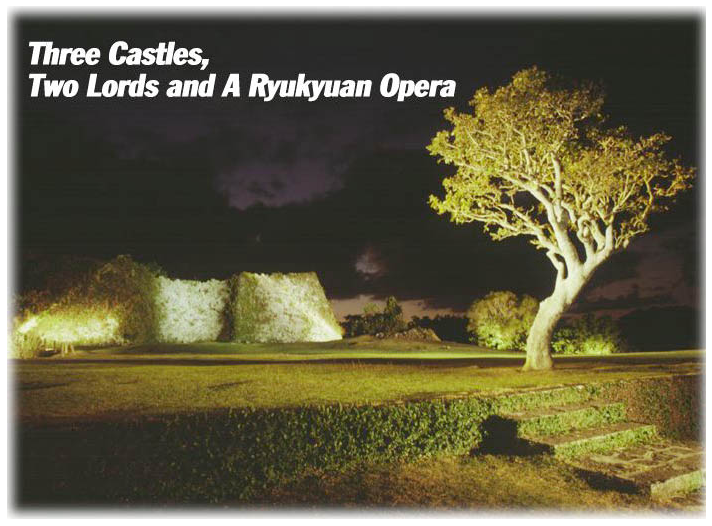 Nakagusuku Castle remains
One of the most engaging stories in the Okinawan classical theater, Kumiodori, concerns that of two lords, Gosamaru and Amawari. It is one of intrigue, deceit and betrayal set in the 15th century Ryukyus (Okinawa). Both of them were in fact historical figures, lords of the castles that command a fine view of the oceans off Okinawa island.
 

Zakimi Castle remains


Katsuren Castle remains


Kumiodori Opera

Gosamaru was a renowned castle builder of the time. The remains of his masterpiece Zakimi Castle still shows the exceptionally beautiful lines of the cut stone arch to the visitors today. Gosamaru was ordered by the king to move to the central area of the island and there he created Nakagusuku Castle, building the third fortifications and back gates.

 

Close by was Amawari, lord of Katsuren Castle, ambitious and desirous of the throne of the Shuri King, Sho Taikyu. The castle of Amawari was situated on the Katsuren Peninsula, which juts out into the Pacific, and allowed him excellent opportunity for the foreign trade with which he enriched himself.

 

As Amawari was a growing power in the area the king sent his daughter, Momotofumi- Agari, in marriage to appease and watch over Amawari and his ambitions. The king also placed his loyal retainer, Gosamaru, in Nakagusuku Castle mid-way between Katsuren and the capital, Shuri, to check any advance on the capital. Not long after Zakimijo Castle was destroyed.

 

In 1458 the king's loyal retainer was killed in a revolt called the "Gosamaru-Amawari disturbance." Amawari schemed to divide king and retainer by informing the king that Gosamaru was going to revolt against him, despite his sworn allegiance, allowing Amawari to destroy Gosamaru.

 

This historical incident was used as the backdrop for a classical theater production concerning the generation after the event. The revenge of Gosamaru's two sons on Amawari of Katsuren is the plot. It was performed in 1791 in Shurijo Castle as entertainment for the Chinese investiture envoys and was well received. It has since become a favorite with audiences all over Okinawa.
 
 
 
 
 
Nakagusuku Castle
503 Oshiro, Kitanakagusuku Village Okinawa, Japan
T e l : 098-935-5719
Fees: Adults.300
-Highschool- -0
-Children---b-0
Hours: 8:30 -16:30
30 minutes from Naha Airport by Okinawa Expressway
 
Zakimi Castle
708-4 Zakimi, Yomitan Village Okinawa, Japan
T e l : 098-982-9216
Free Entrance
1 hour from Naha Airport by Route 58
 
Katsuren Castle
Haebaru, Katsuren Town
T e l : 098-978-2158
Free Entrance
45 minutes from Naha Airport by Okinawa Expressway