LÚČNICA, The Slovak State Artistic Ensemble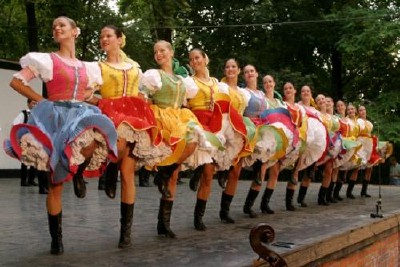 Address:
Štúrova 6, 811 02 Bratislava, Slovensko
Telephone:
421 (0) 2 2048 6103, 421 (0) 2 2048 6101
Lúčnica - the Artistic Ensemble is a cultural representative of the Slovak Republic. Thanks to its interpretative mastery and broad fantasy, inspired by folk traditions, it can create stylised staged dance and singing programmes to the highest professional artistic level. The ensemble keeps and uses all essential means and characteristic features of Slovak traditional culture. In its more than 62-year long history (since 1948) more than 2,500 young people have passed through the member base of the ensemble. Lúčnica, through its artistry, beauty, youthfulness, poetry and temperament, has charmed spectators not only in Slovakia but also in more than 60 countries of Europe, Asia, Africa, North and South America and Australia and its performances have already been seen by more than 30 million spectators. Lúčnica, as a cultural ambassador of the Slovak Republic (it used to represent the whole Czechoslovakia before 1993), ranks through its top professional artistry as among the world's best ensembles in this field according to the views of world critics as well as the general public.
Related