Tamaudun Royal Mausoleum
The tombs are divided into the inner and outer enclosures. The tombs are 2,442 square meters in area. In the middle of the outer stonewall is the first gate. Passing through the gate into the garden, the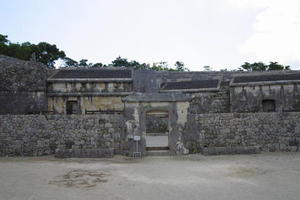 Tamaudun monument is erected on the left. In the front, stone walls run east and west, and in the central part is the second gate. In front of the second gate is the inner enclosure, but there is first a wide garden connecting to the tombs. The mausoleum consists of three connected tomb rooms, the east, central and west rooms.
When funeral services for a royal family member were completed, the deceased was first enshrined in the central tomb. After a number of years had passed, the bones were washed. The bones were then placed in Zushigame funerary urns or stone coffins. Kings, queens and heirs to the throne were then placed in eastern tombs and other family members were placed in the western tomb area.
The tombs are made of stone, with stone stairs on the front of each; on top there are balconies with balustrades.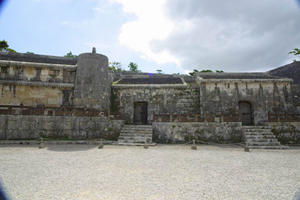 Tamaudun is the royal mausoleum for the Second Sho Dynasty. It was reportedly constructed to house the remains of Sho En, the father of the third king of the Second Sho Dynasty, Sho Shin, who moved his father's remains there after construction. This was in September 1501, Sho Shin's 25th year. After construction generations of royal family were entombed here, but these were destroyed in the Battle of Okinawa. Tamaudun was restored in 1972, and in conjunction with the reversion of Okinawa to Japanese sovereignty was designated an Important National Cultural
Property and National Historical Monument.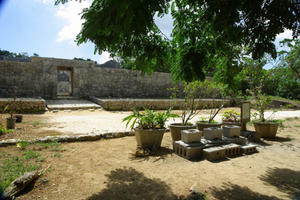 Passing through the first gate of Tamaudun, there is an epitaph inscribed when the tombs were first constructed in the left corner. On it were inscribed a list of those royal family members that should be buried in the royal mausoleum with the names of six people on it.
The first is the name Shuri-giyaka-moigana-shima-akatodaru (Sho Shin), reigning king at the time. Below are listed relations of King Sho Shin; his mother Ogiyaka, his younger sister Otochito-no-moikane, his daughter Manabedaru, his fifth son Sho Sei, third son Sho Shoui, fourth son Sho Ryutoku, sixth son Sho Kyou, and seventh son Sho Gendou. The epitaph continues by stating that should these directions not be followed (burial in the tombs of these nine persons), the wrath of heaven would be incurred.
| | | |
| --- | --- | --- |
| | |   |
| Stone lion on king's tomb | Layered broad concave tiles | Close up of a praying site |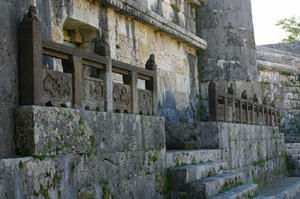 (Naha City) Memorial Structure


This structure was constructed by the third king of the Second Sho Dynasty,
King Sho Shin (ruled 1477-1526) as the royal mausoleum for the dynasty.
It is a rare example of the masonry techniques and design used in the Ryukyu region
of modern Japan. It is a designated Important Cultural Property and Historic Site.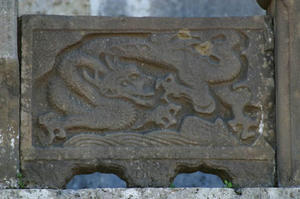 Management / Inquiries
Tamaudun Management Office
1-3 Kinjo-cho, Shuri, Naha City, Okinawa 903-0815 Japan
Phone: (098)885-2861

Naha City Board of Education Cultural Properties Division
2-8-8 Higawa, Naha City 900-8553
Phone: (098)853-5776

USE GUIDE
Hours: 9:00 A.M. - 6:00 P.M. (Admittance until 5:30 P.M.)
Admission: Adult (age 16 and above): 200 Yen (Groups: 100 Yen per person)
Children (ages 7 - 15): 100 Yen (Groups: 50 Yen per person)
Groups: Over 20 persons

Map