Sonohyan Utaki Ishimon Stone Gate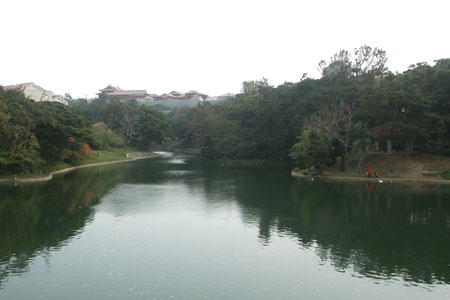 Sonohyan Utaki Ishimon is located to the rear of Shurei Gate, on the left.



At present the stone gate remains, which widens out into the adjacent forest.

Except for the wooden doors, the gate is made entirely of stone; there is a Chinese-style gate in the center. This is a single course structure with the entrance at the side parallel with the ridge. To the right and left are hewn stone walls.

The roof of the gate is in cusped bargeboard with tile roof shingles and around the eaves are rafters, and both ends of the roof are decorated with terminal tiles in the shape referred to as Shibi, an imaginary sea animal.

In the center of the ridges are gable ornaments in a flaming jewel motif, expressing characteristics of wooden structures.
Sonohyan Utaki Ishimon is located to the left of Shurei Gate and consists of the stone gate and adjacent strip of forest. This Utaki -- sacred grove -- is where prayers were offered for the king's safe journey whenever he left the castle compound.


The stone gate is the front of the shrine and was built in 1519 by King Sho Shin. The builder who was commissioned for the work was Nishito of Taketomi Island.
Nishito demonstrated extraordinary abilities as he was one of the Sanshikan ministers, the builder of Sonohyan Utaki Ishimon, and was also in charge of castle design. In 1524 he was entrusted with general control of the Yaeyama Islands as the Taketomi Shuriufuyaku, an upper level official.
The stone gate was designated a National Treasure in 1933; however, it was heavily damaged in the Battle of Okinawa and reconstructed in 1957.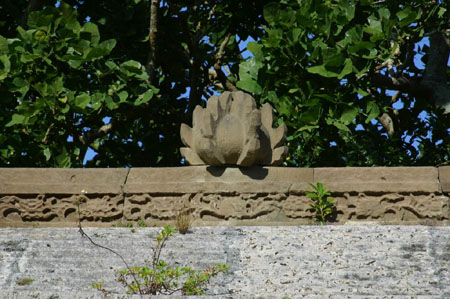 Sonohyan Utaki Ishimon was designated a national treasure and was almost destroyed in 1945 during the Battle of Okinawa. In 1957 it was restored to its original condition using new materials and, in 1972, was designated an Important Cultural Property at the time of Okinawa's reversion to Japan. Subsequently, due to changes in its foundation, slumping and inclination appeared so it was dismantled and rebuilt using as much of the older material as possible, completed very close to the original. The repair project began in December of 1981 and was completed in March of 1986.
The distinct stone gate incorporates perspective and, when looking from afar, there is a bit of an illusion. When under reconstruction, those in charge ran into difficulties when rebuilding according to the plans and on the terminal points of the stone, measurement errors cropped up.

(Naha City) Memorial Structure

This stone gate was constructed by the third king of the Second Sho Dynasty, King Sho Shin (ruled 1477-1526). The wooded area in back of the structure is called Sonohyan Utaki and is a sacred grove where the king would pray. The gate is designated an Important National Cultural Property and is considered a part of the ruins of Shuri Castle.
Management / Inquiries
Naha City Board of Education Lifel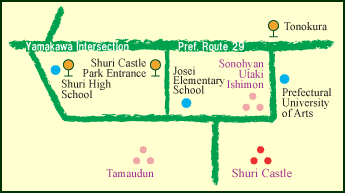 ong Learning Division Cultural Properties Section
2-8-8 Higawa, Naha City 900-8553
Phone: (098)853-5776

USE GUIDE
Admittance Free of Charge