Samsonvale Run
In 1844, two Darling Downs squatters, James Sibley and Joseph King, selected the Samsonvale run south of the North Pine River. The run was so named because of its proximity to Mount Samson, a high peak in the D'Aguilar Range.
On 18 June of the following year, the run was sold to William Joyner in Sydney. Joyner's managing partner, William Mason, took possession of the property, which included 470 head of cattle. Joyner thereafter made frequent trips between Samsonvale and Sydney where he lived with his wife, Isabella, and their infant son, William Charles. His enjoyment of the run was shortlived, however, because during one of these trips in 1847, he lost his life when the paddle wheeler Sovereign was wrecked on the South Passage Bar.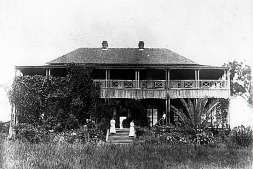 By this time, the run, which had originally extended from the coast to the watershed of the Range, was reduced to 20 square miles of grazing land stocked with mixed breeds of cattle. After William's untimely death, his widow, Isabella (nee Penson, ca. 1811-1888), moved onto the property retaining Mason as a partner. In 1852, she married John Griffin, one of the sons of Captain George Griffin of Whiteside.
Before closer settlement forced major changes in the late 1860s, Isabella Joyner was able to obtain freehold title of a small section of the run as a homestead block. A fine two story home, named Aust House, was built on this portion of the property in 1865. After this time, Isabella's son by her previous marriage, William Charles Joyner, who had been educated in Brisbane and Sydney, returned to the property and began to assume more responsibility for its affairs.
Despite having to surrender much of the leasehold land, William was eventually granted freehold title for about a quarter of the original run. In this way, Samsonvale retained its integrity as a beef and dairy property and was held by the family until the Second World War.
Samsonvale, along with neighbouring farms, was subsequently resumed by the Government to permit the inundation of the area following the construction of the North Pine Dam in the 1970s. It is most fitting that the water body so formed has been named Lake Samsonvale. The name of the run has also been perpetuated by such names as Samsonvale Road and the Parish and locality of Samsonvale. The name of the pioneeering Joyner family has been commemorated by the locality of Joyner.