RAF Spitfire Squadrons 548 & 549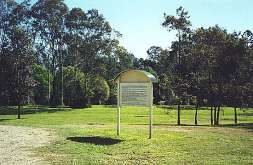 One of the most important events which occurred in the Pine Rivers region during World War 2 was the formation of the 548 and 549 Spitfire Squadrons at the Strathpine A1 and A2 airstrips. These squadrons were formed in 1943 under an agreement between the Australian and British Governments with the aim of increasing the fighter units that were able to defend the coastline of Australia. The squadrons had a mix of Australian and British personnel with approximately 180 men in each.
While camped at Strathpine, 548 Squadron lost two men in a terrible Spitfire crash on 19 April 1944. Squadron Leader Henry Wright and Sergeant Alan Chandler were killed instantly when their planes were involved in a mid air collision near Youngs Crossing. Both men were buried in Lutwyche Cemetery and a memorial has been placed near the site of the crash.
In June 1944, both squadrons were posted to Darwin to commence taking a more active role in the aerial defence of Australia. Although the focus of the war had moved further to the north and Darwin was no longer being directly threatened by the Japanese, the squadrons were involved in a number of successful operations in the islands to the north of Australia.