The Murder of Viola Liuzzo
Viola Liuzzo was a Detroit homemaker, the wife of a Teamster Union official and mother of five. She traveled to Selma in March of 1965 and served as a volunteer during the Selma to Montgomery march. Throughout the day on March 25th, she drove participants back and forth from Montgomery to Selma. That night, she was driving back to Montgomery after dropping a load of passengers in Selma. With her was a black teenager, Leroy Moton. Four men in another car noticed Liuzzo and Moton and began chasing the car. Soon, the driver pulled alongside Liuzzo's car and two of the passengers emptied their pistols into the car.  Liuzzo, shot twice in the head, died instantly.  Moton managed to steer the car to safety and then "played dead" until the attackers drove off. March 25, 1965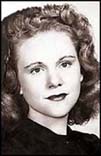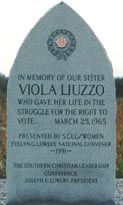 Viola Liuzzo                        The car driven by Liuzzo                                      
Within a day, the suspects were found. Lyndon Johnson made a national television appearance to announce the arrest of  four suspects.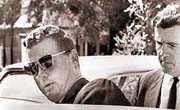 Collie Wilkins, Eugene Thomas, William Eaton                            Gary Rowe
One of the suspects, Gary Rowe, was actually an FBI informer and testified against Wilkins, Thomas, and Eaton at their trials. Rowe was sitting in the back seat of the car driven by Thomas but claimed he never fired his gun. Wilkins, Thomas, and Eaton were tried in federal district court and convicted (under the 1870 statute) for conspiring to deny Liuzzo her civil rights. Each was sentenced to 10 years in prison. Thomas and Wilkins were tried in Alabama for murder but both were acquitted.