Local Government
The Pine Rivers area was originally part of the Caboolture Divisional Board. Divisional Boards were an early form of local government which was established in Queensland in 1879. On 16 January 1888, the Pine Divisional Board was the first to be gazetted within the boundaries of the large Caboolture area. On 5 April of that year, the area to the east of Sideling Creek was included in the newly proclaimed Redcliffe Divisional Board's area.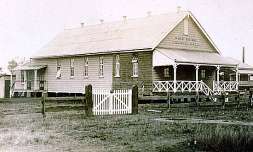 The Pine Divisional Board's initial boundaries enclosed an area substantially less than the Pine Rivers Shire of today with the region north of the North Pine River and west of Sideling Creek being retained as part of the Caboolture Divisional Board's area. The first meeting of the Pine Divisional Board was held at the Albany Creek residence of Henry Thomas Ireland on 7 March 1888. Mr. Ireland was unanimously elected as Chairman for the ensuing year. The Board held its first meetings in rented premises at Bald Hills until the following year when a meeting hall and office building, now known as the Old Shire Hall, was constructed in Strathpine. On 27 January 1897, the Divisional Board's boundaries were redrawn to include sections of the parishes of Samsonvale, Pine and Whiteside to the north of Laceys Creek and the North Pine River.
As a result of public pressure to increase the power of local government, the Local Authorities Act came into force on 1 April 1903 and the Board became known as the Pine Shire Council. On 19 November 1921, the area from Sideling Creek to Hays Inlet was removed from the Redcliffe Shire to be incorporated in the Pine Shire. Following a suggestion by the Shire Chairman, John Sanders Bray, the Council's name was changed to Pine Rivers Shire Council on 23 May 1959.
Many people from all walks of life were elected as councillors during the Pine Rivers Shire Council's first century. It was most fitting that the centenary of local government in the Pine Rivers area was also celebrated during the 1988 Australian Bicentennial year. Under a new Local Government Act assented to on 7 December 1993, the heads of all Queensland councils received the title of mayor in place of the former title of chairman. The following year, having been elected under the newly adopted preferential voting system, Councillor Yvonne Chapman thus became the first Pine Rivers Shire Mayor. Under the new Act, which granted greater powers and autonomy to Queensland's local authorities, councils no longer concentrated on simple issues categorised as 'roads, rates and rubbish', but became responsible for the total management of their communities involving such things as planning for rural and urban growth, infrastructure development, community service provision and environmental protection.