John Oxley & the Discovery of Brisbane & Pine Rivers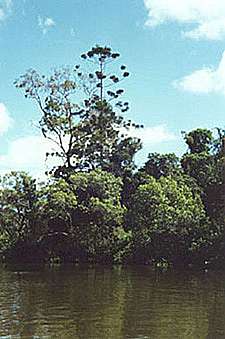 The story of John Oxley's discoveries in the Moreton Bay region begins on 15 April 1823 when three ticket-of-leave convicts, John Finnegan, Thomas Pamphlett and Richard Parsons, were shipwrecked off the coast of Moreton Island. They had been sailing south from Sydney to Illawarra to take on a cargo of timber when they encountered a severe storm which blew them off course. Believing that they were still south of Sydney when wrecked, they survived with the assistance of the Aborigines and spent many weeks wandering around the shores of Moreton Bay. During this period, they made an extensive foray up a large river (the Brisbane) and, whilst still heading north in the hope of reaching Sydney, they used Aboriginal canoes to cross the mouth of the Pine River and Hays Inlet.
Lieutenant John Oxley, the Surveyor-General of New South Wales, was engaged on an exploring expedition in H.M. Cutter 'Mermaid' on 29 November 1823 when he rescued Pamphlett close to Point Skirmish on Bribie Island. Finnegan was found the following day. Oxley had been instructed by the Governor, Sir Thomas Brisbane, to assess Moreton Bay, Port Curtis and Port Bowen as potential sites for convict settlements.
Whilst searching for Finnegan's large river, Oxley, with Finnegan as a guide and one other crew member, rowed up the Pine River on 1 December 1823. As Finnegan had mistaken the mouth of the river as that for the Brisbane, Oxley later referred to it as the Deception River. The party landed at Oxleys Inlet and climbed a small hill two or three kilometres east of Petrie. On the return journey, Oxley observed a large number of Aboriginal people in the vicinity. He also noted the presence of "a great many very fine cypresses" which he later correctly referred to as pines. The site of Oxley's landing has since been commemorated by the John Oxley Reserve in Murrumba Downs.
The following day, Oxley's party discovered and named the Brisbane River. As a result of Oxley's favourable report on his expedition to the Moreton Bay area, Governor Brisbane decided to establish a convict settlement there.
Oxley returned to Moreton Bay nine months later to select and chart suitable sites for the convict settlement. During this visit, on 30 September 1824, he also returned to the Pine River to collect samples of logs of the Hoop Pines which he had sighted on his first trip to the area. Allan Cunningham, the botanist and explorer, accompanied the party. As it was Cunningham who identified the Hoop Pine as a species of Araucaria, it was subsequently named Araucaria cunninghamii in recognition of his work. Although there is no record of Oxley naming the Pine River anything other than the Deception River, the former name was in popular usage by the early 1840s.