James Cash
In 1858, James Cash (ca.1803-1870) wrote to the Lands Commissioner requesting that he be permitted to buy the land upon which he had erected his improvements. An area of 86 acres was subsequently surveyed as an extension to the Bald Hills Farm Subdivision. The Surveyor, James Warner, recorded that Cash had two buildings, two stockyards and a large garden on the river flat. By purchasing what became known as Portion 1, Parish of Bunya, in September 1859 at the price of 1 pound per acre, James Cash became the first freehold landholder in the area now defined as the Pine Rivers Shire.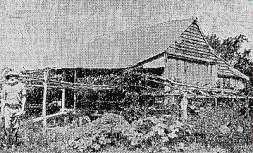 Cash's home stood on a rise overlooking the South Pine River alongside the main road leading northwards from Brisbane and his establishment became legendary for the hospitality the family provided to passing travellers. After a visit to the area, Thomas Dowse wrote in the Moreton Bay Courier of 29 January 1859:
Cash's shanty stands alongside the road leading to the Upper Brisbane and the North or Burnett country, and is consequently much troubled with the visits of the passing tramps; but I must do Cash the justice to say, that though his means and accommodation are far from ample, I never heard of a man passing his door without getting a feed or a pot of tea, if he required one. Rough bush hospitality may be sure of being secured by the foot-sore or weary traveller at Cash's.
By the time of his death in 1870, James had increased his original land holdings to more than 1,000 acres by progressively adding selections north of the South Pine River. The original ford over the South Pine River had become known as Cash's Crossing and the Cash family name has since been perpetuated by the modern road crossing and nearby James Cash Court. James Cash's youngest son, Joseph Henry Cash, who had been born at the Crossing in 1865, continued to live on a section of the original property until he died in 1951. The naming of the locality of Cashmere, gazetted in 1979, also commemorates the pioneering achievements of James Cash; the component mere meaning 'lake' or 'land bordering lake' has been added as the locality borders Lake Samsonvale.