DROWNING FACTS AND PREVENTION CHECKLIST

In the United States, drowning is the second leading cause of unintentional death from injury for persons ages five (5) through forty-four (44).
[Source: Injury Fact Book]
Drowning is the leading cause of unintentional death from injury for those fourteen (14) years of age and under.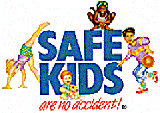 There are over seven thousand (7,000) drowning deaths nationally each year. [Source: National Safety Council]
In Hawaii, approximately sixty-one (61) persons - residents, military, and visitors - drown each year [with an average of thirty-six (36) residents drowning per year], according to the State Department of Health.
Hundreds (700 to 850) of persons are rescued from the ocean surrounding the island of O`ahu each year.
[Source: City and County of Honolulu, Emergency Services Department, Ocean Safety and Lifeguard Services Division ]

In a study conducted by the City and County of Honolulu's Department of Parks and Recreation involving more than six thousand (6,000) youngsters age seven through fourteen (7-14), seventy (70)% of them could not swim fifty (50) yards. [Source: City and County of Honolulu, Department of Parks and Recreation]

SUBMERSION HOSPITALIZATIONS
OF CHILDREN IN HAWAI`I
1989 - 1990
Sixty-seven (67) children were hospitalized due to submersion in 1989 & 1990; for children seventeen (17) years and younger, the average age was six (6).
Near-drownings in natural bodies of water accounted for sixty (60)% of the hospitalizations; the average age was seven (7).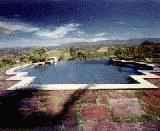 Pool near-drownings accounted for thirty (30)% of the hospitalizations; the average age was four (4) years old.
Ten (10)% of all submersions occurred in the bathtub or toilet; the average child was one (1) year old.
[Source: Pacific Basin Rehabilitation
Research and Training Center, April, 1993]

Supervise all young children while they are in, on, or near the water. Drownings and near-drownings occur in familiar surroundings during very short lapses in supervision.
 
Do not have older siblings watch younger children in the water. They are not trained or mature enough to be given such a responsibility.
 
Take a CPR course. Know what to do in case of an emergency. And when there's an emergency - Don't Stall, Call 911!
 
Do not rely on floatation devices or swimming lessons to protect a child. Children are not waterproof.
 
Keep a portable telephone by the pool/hottub/spa.
 
Surround your pool, hottub or spa with four-sided fencing which does not include your house as one side. Children should not be able to access home pools.
 

FOR MORE INFORMATION
or to get involved in local drowning prevention activities call the
Keiki Injury Prevention Coalition/ SAFE KIDS Campaign® Hawai'i
at

The Keiki Injury Prevention Coalition is a collaboration of seventy (70) organizations, agencies and individuals that addresses childhood injury prevention and control.
The project is also complemented by other activities of the State of Hawai`i, Department of Health's Injury Prevention and Control Program, which includes facilitating and providing leadership for the
Injury Prevention Advisory Committee;
the Hawai`i Firearms Control Coalition; and
the vehicular Safety Helmet Coalition.
These groups essentially form the strong core of an injury prevention network and address the spectrum of injuries across all ages.