Dayboro
Dayboro was first known as Hamilton, having been so named after a farmer, Hugh Hamilton, who was appointed Receiving Officer for mail in 1875. In 1892, it became known as Terrors Creek from the creek on which it is situated. The creek and the adjoining area, which became known as Terrors Paddock, derived their names from a grey Arab stallion, Terah, owned in the 1850s by Captain John Griffin of the Whiteside run.
In 1917, however, as the Postmaster General declared that Terrors Creek sounded too much like Torrens Creek, once again, the township acquired a new name. Although the first known inhabitant, John McKenzie, operated a pit sawmill just south of the townsite from 1866, the third and final name selected for Dayboro honours another notable early settler, William Henry Day. Day was Clerk of Petty Sessions and later Police Magistrate in Brisbane. He first selected land in the Dayboro area in the late 1860s and pioneered sugar growing on his extensive properties in the district.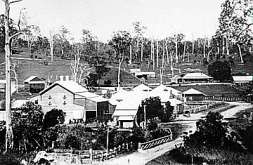 Settlement subsequently spread north and south along the North Pine River as more than 100 people took up selections in the Terrors Creek area. Timber, maize, vegetables and dairy products provided the main income for the settlers. The failure of Day's sugar growing experiment within a few years brought about the gradual breaking up of his large land holdings and facilitated the further development of the area. A store and hotel, the nucleus of the town, were established in the early 1890s and these were followed by a sawmill around 1900 and the Silverwood Butter Factory in 1903.
In 1915, in an article urging the extension of the railway from Enoggera to Terror's Creek, the township was described as "being set prettily on a hillside, and being the centre of miles of agricultural, dairying and fruit lands". According to the article [Australian Pastoralist, Grazing Farmers' and Selectors' Gazette, September 1915, Supplement, pp.2-3], there was "an up-to-date butter factory, bank, several stores, an excellent hotel, a large sawmill, public hall, etc., and a community ever ready to co-operate in the advancement of their district". The opening of the railway on 25 September 1920 greatly facilitated the transport of goods to Brisbane and was of great benefit to the district. The railway continued to operate until 1 July 1955 when it closed due to declining traffic.