DANGEROUS SHOREBREAK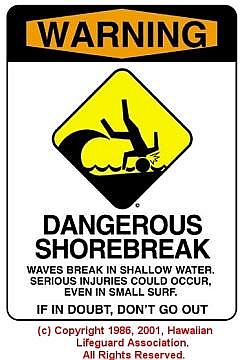 Warning Level: HAZARDOUS
Condition Description: This is the condition when waves break directly on the shore. Shorebreaks are unpredictable and dangerous. They have caused many serious neck and spinal injuries to both experienced and inexperienced bodysurfers and swimmers.
Comments: Small waves can be very dangerous, too! Be sure to ask a lifeguard about the wave conditions at the beach you may be attending.
Be especially careful when the surf's up and running fast!