Reef building sponges
The sponge reefs consist of seven hexactinellid species, three of which are the main frame builders. These three siliceous reef builders of the Order Hexactinosan are:
Heterochone calyx


Heterochone calyx
All three hexactinosan species attach themselves to hard substrate such as rocks, boulders, or sponge skeletons by spreading their basal plate. Heterochone calyx is funnel-shaped and grows up to 1.5 m in height and 70cm in diameter. It has open-ended finger-like protusions of lateral body wall about 20cm long and 5cm in diameter. The body wall can be up to 1cm thick. H.calyx is white to bright yellow.

Aphrocallistes vastus


Aphrocallistes vastus
The funnel- or cup-shaped Aphrocallistes vastus has radial flat, closed-ended hollow mitten-like extensions. It is generally smaller than H.calyx, yet can still reach more than 2m in height with a body wall up to 5mm thick. A.vastus is a darker yellow hue and forms smaller clusters than those of F.occa or H.calyx.

Farrea occa


Farrea occa
Farrea occa is a dichotomously branching round tube with open lateral branches. It's walls are less than 2mm thick and it is very brittle as a result of only two layers of fused hexactin spicules. Their stocks can reach more than 15 m in diameter; due to this large size they F.occa is one of the most important sediment bafflers in the reef. It slows down bottom currents so that sediment is transported across the reef and suspended sediment is deposited. This baffled sediment is organic rich siliciclastic clay.
The other four species, of the Order Lyssacinosa, are non-reef builders:
Rabdocalyptus dawsoni
Acanthascus platei
Acanthascus cactus
Staurocalyptus dowlingi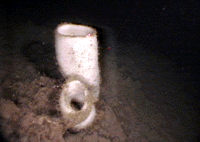 Non-reef building sponge
The non-reef builders mentioned above grow up to 50 cm in height as boot-shaped tubes. They are naturally white; however, trapped sediments and microorganisms cause them to have a grey-brown colour. Of the four species, Rabdocalyptus dawsoni and Staurocalyptus dowlingi are the most abundant. They are found both within reefs and outside of them and often settle in soft sediment, though sometimes, hard substrate as well.