Post-War Changes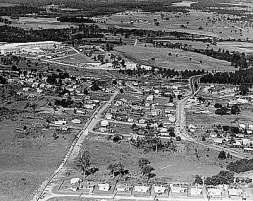 After World War II, the Shire briefly resumed its rural character. The supply of electricity to households, which had commenced in the 1930s, had been provided to most areas of the Shire by 1952.
The Australian Paper Manufacturers (APM) Petrie Mill, now known as the Amcor Cartonboard Petrie Mill, commenced manufacturing operations in 1957. This stimulated the economy of the area and caused a massive surge of population in Petrie which had remained a small farming town with a hotel, two stores and only a small number of houses.
Construction of the mill was accompanied by the damming of Sideling Creek to create Lake Kurwongbah in 1961. The lake provided a reticulated water supply which further encouraged urban development during the 1960s. PGH Brickworks opened in 1961 using locally obtained supplies of clay. Extractive industry had also been occurring for many years along the floodplains of both the North and South Pine Rivers.