Skalica Culture House (Catholic House)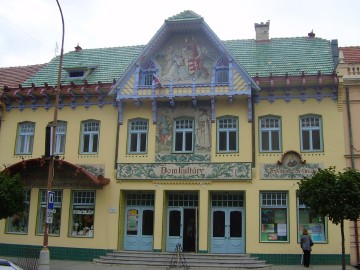 Contact: 
Anna Hornáčková
(f),
Michaela Hazlingerová
(f) Officers
Telephone: 
421 (0) 34 664 4885
Address:
Námestie slobody 10, 909 01 Skalica, Slovakia
Telephone:
421 (0) 34 664 4230, 421 (0) 34 664 4253
Hours:
8am-4pm Mon-Fri, by appointment Sat-Sun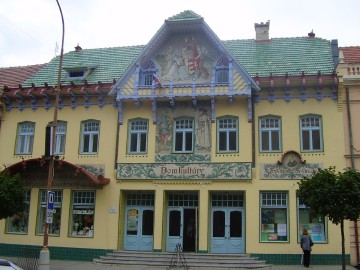 Skalica Culture House (Catholic House) is a striking Secession building dating from 1905 which ranks among the most interesting in Skalica. The idea of building the culture house was inspired by Dr Pavol Blaho, a fervent patriot born in Skalica, and brought to fruition within the framework of the local Catholic Circle. Designed by Dušan Jurkovič, a well-known architect of the day, its style displays a heavy folkloric influence. As in Martin, the centre featured club rooms, a library, a museum and a theatre.
The facade of the Culture House is decorated with mosaic work comprising sketches by Czech painter Mikoláš Aleš, and the walls and house curtain in the Theatre Hall are adorned with figure paintings by Jozef Úprka and Antoš Frolka. The building is a now a National Cultural Monument.
From the outset several rooms were designed to house the folkloric and ethnographical collections of Dr Blaho, and these inspired the idea of founding a museum - today the first floor of the centre houses the exhibits of the Záhorie Museum.