Narrow Gauge Switchback Forest Railway, Vychylovka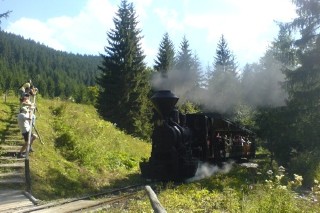 Name:
Historická lesná úvraťová železnica, Vychylovka
Address:
023 05 Nová Bystrica-Vychylovka, Slovakia
Telephone:
421 (0) 41 439 7350, 421 (0) 41 439 7219
Hours:
1 May-31 Oct
: 9am-5pm Mon-Fri (last ride at 4pm), 9am-6pm Sat-Sun (last ride at 5pm
until 26 Sep
only);
1 Nov-30 April:
closed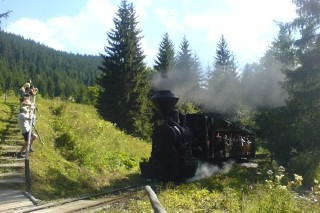 The 3.6 kilometre Narrow Gauge Forest Railway, Vychylovka is all that now remains of the former 61 kilometre 760 mm gauge logging railway, established in 1926 with the amalgamation of two earlier independent forest railways constructed between 1915 and 1918. In 1994 the track from Vychylovka to station Chmúra was relayed and the railway has since become a successful tourist attraction. Trains are pulled by a steam engine at weekends, while on weekdays they are pulled by a small diesel engine. The railway travels through the Open Air Folk Museum of Kysuce Village where visitors can see 34 specimens of popular architecture moved here from different corners of the Kysuce region. It has been proposed for inscription on the UNESCO World Heritage list.