Designum
Address:
Slovenské centrum dizajnu, Jakubovo námestie 15, 814 99 Bratislava, Slovakia
Mailing address:
Slovenské centrum dizajnu, P O Box 131, 814 99 Bratislava, Slovakia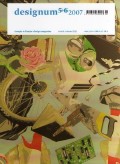 Published by Slovak Design Centre, Designum is a Slovak professional magazine which focuses on all aspects of design. It contains up-to-date information about contemporary Slovak and foreign design as well as learned articles on the history of design. It represents the opinions and work of interesting personalities in the Slovak design and industry sectors, informs readers about important design events, and provides space for theory. English summaries of the main article are available.
The magazine is aimed at the general public, but also serves designers, students of design, architects, manufacturers, theoreticians, educators, managers, artists and craftsmen and business people.