Living in Scotland
ABOUT EDINBURGH
The City of Edinburgh
Edinburgh itself is one of Europe's most handsome cities. The beauty of its setting and its architecture have justly earned it the title of "Athens of the North". To prospective students, the city offers a rich mix of academic, social and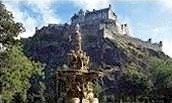 allied facilities - libraries, museums and art galleries, theatres and cinemas. Visitors also know Edinburgh as a city of festivals, with the international Arts, Science, Film, TV, Jazz and Folk Festivals amongst others. The Scottish Parliament is located very close to the University and this further adds to the excitement and attraction of being based in Edinburgh. There are excellent communications to other parts of Scotland and to other cities in the UK and Europe, as well as easy access to beautiful coastline, lochs, and mountains.
The University of Edinburgh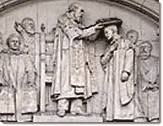 The MSc degrees are taught at the University of Edinburgh, founded in 1583 and now one of the largest academic institutions in Britain. In the College of Humanities and Social Sciences there are nearly 3000 students on taught postgraduate courses or studying for research degrees. The University estate is spread throughout the city although the heart of the University is located around George Square, where the MSc is taught.