The Musical Director
Batucada Nana Musical Director: Ken Dalluge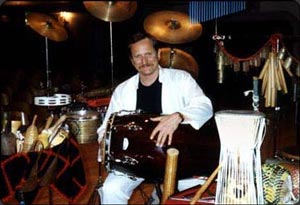 Thirty five years ago Ken Dalluge began playing drums in the steamy R & B clubs of the frozen tundra in the beautiful state of Minnesota. After studying with master drummers and absorbing local influences in Minneapolis, Chicago and Seattle, his dream took him to Paris, France.
Over the course of of more than six years there he toured all corners of Europe with leading jazz trios and quartets, directed prestigious Brazilian batucadas and escolas da samba, played in Paris' most popular "orchestre de bal," offered workshops in African-American music throughout the continent, and served as the sole demonstrator of electronic percussion and drumset systems for Yamaha Musique France. In addition, Dalluge co-produced the very successful "All Star" music workshops organized by International Music Seminars™ in Montpellier and Antibes, on the French Riviera.
Currently residing in Santa Cruz, California, he continues to tour the United States and Europe, and has performed and presented workshops with such artists as Diane Schuur, Chick Corea, Joe Diorio, Dave Liebman, Charlie Byrd, Al DiMeola, Richie Beirach, Billy Hart, Trilok Ghertu, Joey Baron, Dave Weckl, Pat Metheny, Toots Thielmans, Gary Burton, Dick Oatts and the group Oregon.
His experience and apprenticeships with "master drummers" from around the globe spanning twenty five years infuse his offerings with a passionate world view.