One of the Greatest Duos - Simon and Garfunkel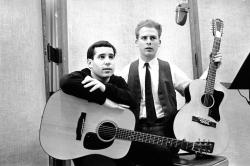 Paul Simon and Art Garfunkel grew up together in the Forest Hills neighborhood of Queens, New York. Both interested in music from early ages, they formed a singing duo called Tom and Jerry while in high school. In 1957, their first professional recording, "Hey, Schoolgirl!," peaked at number 49 on the Billboard charts and even landed them on TV's "American Bandstand." After attending separate colleges, they discovered an interest in folk music and became prominent in the Greenwich Village music scene. Their first album, 1964's "Wednesday Morning, 3 A.M.," was a failure, and the duo split. Simon went to England where he teamed with Bruce Woodley to write songs; one of them, "Red Rubber Ball," became a number one hit for The Cyrkle and still receives considerable airplay on oldies radio stations today.
While in England, Simon learned that "The Sound of Silence," one of the tracks from "Wednesday Morning, 3 A.M.," had reached number one on the pop charts in the US. He returned to the States and reunited with Garfunkel; a reissue of their first album hit number 30, while their second album, "Sounds of Silence," reached number 21. Subsequent hit singles included "Homeward Bound," "I Am A Rock," "A Hazy Shade of Winter," "At the Zoo" and "Fakin' It," while one of their B-sides, "The 59th Street Bridge Song (Feelin' Groovy)" was a hit for Harpers Bizarre.
Their biggest break came in 1967 when film producer Lawrence Turman contracted the duo to write songs for a film called "The Graduate," starring Oscar-winner Anne Bancroft and a relatively unknown young actor named Dustin Hoffman. The film was a huge critical and commercial success, and one of the film's songs, "Mrs. Robinson," was a number one single and a Grammy winner. They continued to produce a number of hits, such as "The Boxer" and the smash hit "Bridge Over Troubled Water." Due to increasing tensions, they broke up in 1970 to pursue solo careers but have reunited for several individual concerts. They planned a tour as a duo in 2010, but it was postponed indefinitely because of Garfunkel's vocal health.